Concrete ST52 Pipe From Factory
The article Time : 2018-11-19
The company always takes the high quality as the leadership, strives for perfection as the goal, participates in the intense market competition. Market demand oriented, technology and management to bring you high quality assurance. To repay the trust and love of the customers for the products of hebei runhao pipeline equipment manufacturing co., LTD. The company constantly applies new technology, new technology, new material, and actively develops new products, provides new and old customers with products and more perfect services, and strives to build the salt mountain pipeline equipment base.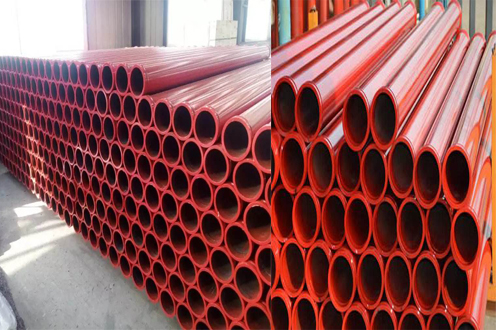 There are many types of pump pipes, including wear-resistant pump pipes, thick-wall pump pipes, thin-wall pump pipes, and wear-resistant pump pipes, which also belong to the category of mechanical processing. The most used are stamping, forging, roller processing, rolling, bulging, stretching, bending, and combined processing methods. Wear - resistant pump pipe machining is an organic combination of machining and metal pressure machining. The wear-resisting pump pipe is illustrated as follows: forging and pressing: the end of the pipe or part of it is blanked with the die forging machine to reduce the outside diameter. The common die forging machine has rotary type, connecting rod type and roller type.
Wear-resistant pump pipe is made of special steel pipe, hardened by inner arm and carburized, the hardness of flange bushing is up to 58-60 degree, the service life of the pipe is improved by 3-5 times, which saves time and cost for users, avoids the trouble of changing pipe frequently, and improves the production efficiency.
keyword:Concrete ST52 pipe.