Concrete Twin Wall pipe brands
The article Time : 2018-11-08
Pipe Twin Wall Boom pipe
Inner Pipe High Chrome Steel 2.8mm
Wall Thickness ST52 2mm
Hardness HRC 60-67
Weld ends SK ,ZX, MF
Twin Wall concrete pump Pipe for 7mm Specifications
Pipe Twin Wall Deck pipe
Inner Pipe High Chrome Steel 4mm
Wall Thickness ST52 3mm
Hardness HRC60-67
Weld ends SK, ZX ,MF
size
As each roller in the Pump head presses Concrete Pump Pipe, the peristaltic Pump will Pump a certain amount of fluid. Therefore, the size of Concrete Pump Pipe is directly related to the Pump flow rate. In other words, it has a great impact on the operation of the fluid delivery system. Concrete Pump Pipe is an important part to consider when designing quality peristaltic Pump. We need to calculate the best size or range of Concrete Pump Pipe. The size here mainly refers to Concrete Pump Pipe inner diameter and thickness. The inner diameter determines the amount of fluid pumped by the rotor for each rotation, and the thickness of the wall determines the ability of Concrete Pump Pipe to restore the original shape after each crushing, which greatly affects the service life of Concrete Pump Pipe.
HEBEI SHUOBAO CONSTRUCTION EQUIPMENT MANUFCTURE CO., LTD is the leading manufacturer and exporter specializing in all kinds of concrete pump parts in China.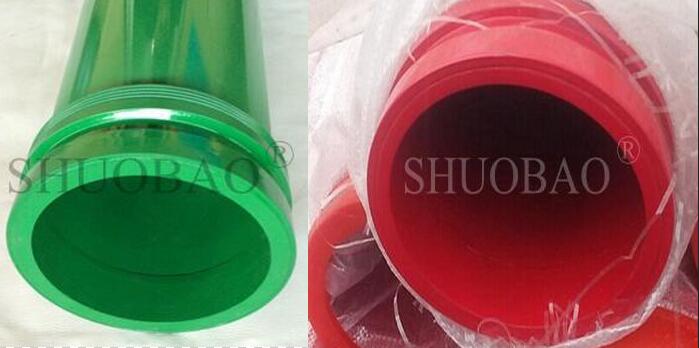 Our facoty is located in Macun industry zone, Yanshan County, Cangzhou city, China and it is near to Beijing and Tianjin City, It covers an area of 150,000m2, There are 120 technicians, 20 senior technicians and over 400 employees.
Our products range from Concrete straight pipe, elbows, reducer, clamps, rubber hose, and wear plate& cutting ring, cylinders, valves for concrete pump ,and for brand Putzmeister, Schwing , Cifa, JUNJIN , KCP, Sany, Zoomlion, HOLD , Foton, ect. over 200 kinds of SHUOBAO products in different sizes and styles. With high-quality and good reputation, our products are exported to Europe, Australia, New Zealand, U.S.A., Canada , South American countries and African countries.
Looking forward to the long-term business relationship with you.
(1) Are you manufacture ?
Yes, I am the manufacture, own my factory to produce these pipes !
(2) What is your advantage ?
First, I own my factory, produce these pipe by ourselves, the price is the EXW lowest price .
Second, our raw material is purchased from An'gang steel company, which is the biggest national enterprise, the pipe performance is stable, quality is the best and promised !
Third, my factory own produce the pipes, so, the date of delivery is promised .
Fourth,we have many kinds of spare parts used on the mobile pump and stationary pump , can supply putzmeister, schwing, sany, zoomline brands spare parts, we have the long time cooperative partner, can supply you the lower price and best quality parts !
keyword:Concrete Twin Wall pipe